Resources
---
FTIR Spectrometer
FT-IR TENSOR 27 Spectrometer
This spectrometer incorporates state-of-the-art optics for outstanding sensitivity and stability. It ensures easy and reliable analytical work with high sample throughput. The heart of the instrument is a permanently aligned RockSolidTM cube-corner interferometer, which is equipped with gold-coated optics and has a 30-degree angle of incidence for maximum efficiency and sensitivity. The permanent alignment provides consistent high-quality results, less downtime, and outstanding stability. The TENSOR 27 FTIR spectrometer has a spectra range of 7500-370 cm-1 with a standard KBr beamsplitter and a resolution better than 1 cm-1. The spectrometer is equipped with a micro ATR sampling accessory, and HYPERION series FT-IR microscope with a multitude of automatic features like artificial intelligence network, automatic accessory recognition, and automatic component recognition. The microscope is optimized for the analysis of samples with areas up to 260 mm. Typically, a spatial resolution of 8 mm can be achieved in the mid-infrared spectral range with the standard objective. The fully integrated OPUS software allows data acquisition, manipulation, and evaluation in one intuitive package.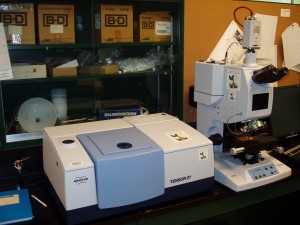 FTIR Spectrometer
---
Raman Spectrometer
The SENTERRA is a full-featured dual laser Raman spectrometer with a confocal microscope system that accommodates multiple excitation wavelengths with the highest possible spatial resolution. The spectrometer incorporates the automatic fluorescence rejection (AFR) method for rejecting fluorescence from many samples to produce high-quality Raman spectra even on the most demanding samples. The integrated system automatically calibrates to better than 0.1 cm-1 accuracies and precision without the necessity of daily wavelength calibrations. The detector, grating, and filters are automatically positioned in seconds. Video images of the sample are saved with the Raman spectra so that the data can be analyzed quickly and clearly. The spectral resolution is 3 cm-1. Two different lasers can be employed which are 100 mW 785 nm or 20 mW 532 nm laser with corresponding spectral ranges 785 nm: 100-3500 cm-1 and 532 nm: 80-4500 cm-1. The microscope system is based on the Olympus BX51 optical microscope with a trinocular tube and quintuple revolving nosepiece, 20x and 50x metallurgical objectives. The integrated OPUS software provides an easy-to-use platform that is compatible with stringent validation environments.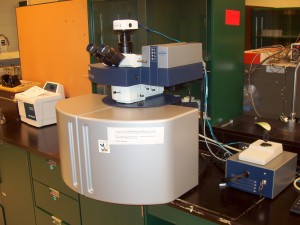 Raman Spectrometer
---
Universal Tester
Instron Universal Tester, Model 3367 for tensile, flexural, and compression test max.
Capacity: 30 kN with 2 kN and 30 kN load cells
Test Fixtures: Tensile pneumatic side-action grips, Tensile mechanical wedge action grips, and 3-point flexural fixtures.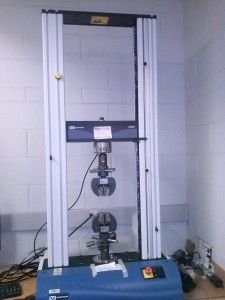 Instron testing machine
---
Contact Angle Measuring Instrument: OCA 15EC
The video-based optical contact angle measuring system, OCA 15EC, is used to characterize the surface free energy of solid materials by measuring the contact angle of a drop of a liquid on the flat surface of the solid. The surface tension of liquids can also be calculated, as well as the work of adhesion between two materials. The instrument provides the sessile drop method, the pendant drop method, and others.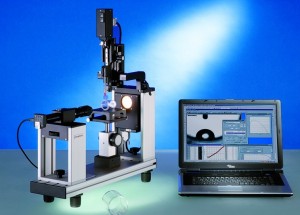 ---
Environmental Chamber
Model: Burnsco WTH-6-6-8/5
Chamber Dimension:
96" H x 72" W x 72" L
To provide mechanical testing of materials over a wide range of temperature and humidity from 20% to 95%.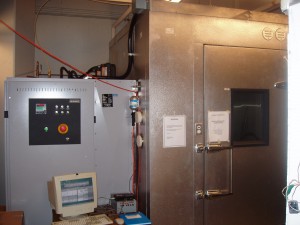 Environmental Chamber
---
Capillary Rheometer
Bohlin Instrument
Rosand RH 2200 Rheometer with twin-bore (19 mm diameter) barrel to produce viscosity versus shear rate flow curve.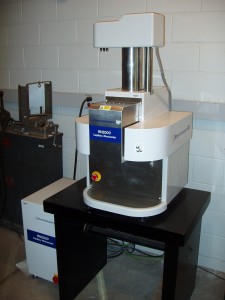 Capillary Rheometer
---
X-ray Micro-computed 3D Tomograph
SkyScan 1172 desktop high-resolution micro-CT 20-100KV (10 watts max.) with 10 Megapixel camera
Maximum specimen size: 20 mm diameter, 50 mm height for standard scan
Pixel size: 5 – 35µm
Scan duration: 15 – 300 minutes (depending on camera position, frame averaging, rotation step, resolution and pixels used)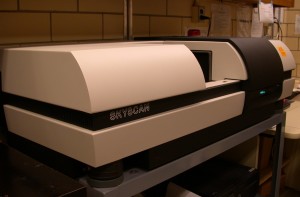 X-ray Micro-computed 3D Tomograph
---